Skip to Main Content
It looks like you're using Internet Explorer 11 or older. This website works best with modern browsers such as the latest versions of Chrome, Firefox, Safari, and Edge. If you continue with this browser, you may see unexpected results.
Subject Specialist
Brenda Ellis
Find Books - Midcat & Other Library Catalogs
LibrarySearch

Middlebury Library's search engine. It searches everything we own or have access to, including books, articles, films, reference materials, primary sources and more. (go/LibrarySearch/)
MIDCAT

Middlebury College Library Catalog
Featured Books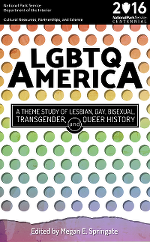 LGBTQ America: A Theme Study of Lesbian, Gay, Bisexual, Transgender, and Queer History "is a publication of the National Park Foundation for the National Park Service and funded by the Gill Foundation. Each chapter is written and peer-reviewed by experts in LGBTQ Studies."
To preview all chapters at once, visit the series home page.
Transgender History, Second Edition

by

Susan Stryker

Call Number: E-book

Publication Date: 2017

Covering American transgender history from the mid-twentieth century to today, Transgender History takes a chronological approach to the subject of transgender history, with each chapter covering major movements, writings, and events. Chapters cover the transsexual and transvestite communities in the years following World War II; trans radicalism and social change, which spanned from 1966 with the publication of The Transsexual Phenomenon, and lasted through the early 1970s; the mid-'70s to 1990-the era of identity politics and the changes witnessed in trans circles through these years; and the gender issues witnessed through the '90s and '00s. Transgender History includes informative sidebars highlighting quotes from major texts and speeches in transgender history and brief biographies of key players, plus excerpts from transgender memoirs and discussion of treatments of transgenderism in popular culture.
Tip: How to Read a MIDCAT Record